We are glad that you are finally putting your sexual needs ahead of social stigma and choosing to buy a sex doll. However, as a first-time buyer, you are probably not familiar with many facts about sex dolls, such as: B. the types of sex dolls, their prices, the care of sex dolls, the positions you want to try with sex dolls and which ones to avoid and so on. But you don't have to worry about any of these questions while we're here!
As we are quite sure that by the end of this article you will have a thorough understanding of the functions of sex dolls, different types of sex dolls and important factors to consider when purchasing the perfect high quality love dolls. Without further ado, let's learn about the different types of sex dolls.
What are the four different types of love doll?
The four main types of mini sex doll are silicone and TPE sex dolls, AI sex robots, inflatable sex dolls and stuffed sex dolls. Each of these has its own advantages, disadvantages and uses. Let's look at how these dolls differ from each other and what are their characteristics.
A. Silicone & TPE sex dolls
Silicone sex dolls are one of the most famous and widely used types of sex dolls. These dolls are more realistic and soft than their plastic counterparts. In addition, silicone sex dolls offer a variety of options that no other type of sex doll offers. Like silicone dolls, TPE sex dolls are softer and smoother than silicone dolls. When touched, it leaves an impression.
Unlike silicone sex dolls, TPE adult dolls offer more realistic "jiggling" of body parts such as breast, booty, etc. In addition, the TPE material is more elastic, which allows the dolls to be more flexible at the joints. On the other hand, TEP types of sex dolls are less durable than silicone dolls and require more care to clean and maintain. However, both dolls are safe for human contact and easier to clean.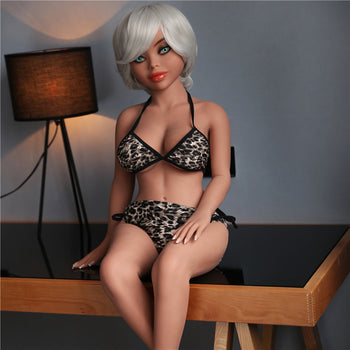 B. AI sex robots
AI robots are next-level technology. As the name suggests, sex robots are artificial intelligence based sex dolls with built-in smart assistant that allows users to interact with them. It is no exaggeration to say that these types of sex dolls are the future.
Thanks to their deep learning abilities, these AI sex dolls can talk to you intelligently. What's more, these lifelike female sex robots can move, moan, react and even ejaculate during sex based on every touch and level of arousal!
You may have the impression that you are sleeping with a real human while having sex with these AI sex robots. Based on your expressions, moans and touches, these sex robots can gauge your mood. Based on these cues, these high-quality love dolls respond in the same way, ultimately enhancing the overall sexual experience! If money is not an issue, you should try AI sex robots for real sexual experience and ultimate pleasure.
C. Blow up sex dolls
Blow-up sex dolls, also known as inflatable sex dolls, are traditional types of sex dolls made primarily of PVC. These dolls are ideal for those with limited storage space. However, for those who have tried silicone or TPE sex dolls in the past, these inflatable sex dolls are too unrealistic. Compared to AI sex dolls or adult silicone dolls, inflated sex dolls are far less lifelike and enjoyable.
These inflatable types of sex dolls are inexpensive; However, they are unable to meet many of their users' needs. With these dolls, you cannot take the same sexual positions as with silicone dolls.
If money or space is a major concern for you, you can buy inflatable sex dolls. Otherwise, silicone sex dolls or TPE sex dolls would be an ideal purchase.
D. Stuffed sex dolls
If you have a plush fetish, stuffed love doll or plush sex dolls are excellent choices. Stuffed types of sex dolls are available in different styles, the most common of which are anime style girls. These adult dolls are very soft and easy to carry. It has slots for vagina inserts to avoid damaging the materials. However, they do not have the feel or look of a real doll.
Plush sex dolls are an ideal choice if you are not a fan of realistic dolls like silicone dolls and would rather immerse yourself in a fantasy world.
So these are the four main types of sex dolls. In addition, sex dolls can also be differentiated by other characteristics such as gender, breast size, body type, ethnicity, height, hair color, etc. We will briefly touch on all these sex doll features in the following section.
sex dolls based on their characteristics
Sex dolls are further classified into different types based on their physical attributes like height, body type, booty shape, breast size, skin color and so on.
Sex Dolls Classification: By Gender

If you think there are only female sex dolls, you are wrong. There are different types of sex dolls for women just like there are sex dolls for men because women like men also need sexual pleasure and no one can deny that. Most reputable sex doll websites offer both types of sex dolls - male sex dolls and female sex dolls.
Like female sex dolls, male sex dolls come in different features, sizes and shapes. They have a chiseled body, macho looks and a long manhood that will make you cum multiple times in a single session! And the best part is that unlike many real men, these male sex dolls don't go crazy in 27 seconds!
Sex Dolls Classification: By Ethnicity

Sex dolls are further classified according to their ethnicity. There are Asian sex dolls, Japanese sex dolls, African sex dolls, European sex dolls and Arabic sex dolls among others. Since every man and woman has different tastes in sex, this diverse selection of sex dolls based on ethnicity is one of the great ways to satisfy their fantasies.
Because of their ethnicity, these sex dolls have different features and body types. For example, Japanese sex dolls have a small body, silky hair and pink pussy, while African sex dolls have curly hair, brown skin and tan pussy. Different types of sex dolls based on ethnicity are a great way to fulfill your lifelong desire to be with a woman from a specific country or region.
Sex Dolls Classification: By Breast Size
The breast is an important part of the body that affects the appearance of sex dolls. If you are a fan of boobs, you must consider this feature when purchasing a sex doll. If you are a boob man rather than an ass man who likes big boobs, buy a sex doll with cup size larger than K. If you like small boobs, buy sex doll with cup size smaller than C.
Thanks to the wide range of different types of big breast sex dolls, you can satisfy your burning sexual desire to lay down with a woman with Pamela Anderson breasts. At the same time, it also allows you to experiment with different breast sizes, which is almost impossible in real life.
Sex Dolls Classification: By Size
Sex dolls can be classified based on their size, as well as ethnicity, breast size, and gender. Many people prefer large dolls over small dolls, while others prefer the opposite. If you like midgets, look for sex dolls under 155 cm tall. If you prefer tall girls or getting laid with long-legged dolls is your lifelong dream, choose sex dolls taller than 165cm.
So, these are the characteristics and factors of the lifelike sex dolls that classify sex dolls into different groups. These different types of sex dolls are more than enough to fulfill all your longtime desires. What are these adult dolls for? To satisfy your novel and kinky fantasies! Is not that so?
summary
There are different types of sex dolls based on color, height, body type, breast size, booty shape, ethnicity and other characteristics. Before you buy a sex doll, write down your requirements and what you are looking for in an ideal sex doll. It is also recommended that you always prefer custom made sex dolls over solid ones as this allows you to replace their body parts when you get tired. Also, only ever buy from real sex doll manufacturers.