How to make the sex doll more attractive? Makeup Skills You Must Know.
Recently we have received many requests on how to make the doll more attractive. One question, among others, is how to use makeup to add seduction to the doll's face.
The realistic love doll is always young and her face is really beautiful. A natural, untouched face is also impressive. And if we know how to make them more feminine and evolutionarily attractive. This will feast your eyes. Makeup is an effective way to make the doll more attractive.
But men are not born makeup. You can follow the tips below if you don't have much time or energy to put the complicated steps.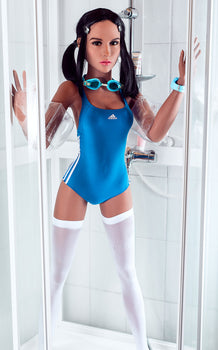 First of all, and the most important, is the use of water-based makeup. The sex doll's skin is very smooth and healthy. Here's how you can skip the concealer.
Let's try to make the magic realistic sex doll from now on.
Preparation: eyebrow pencil, mascara, eyeshadow and eyeliner, blush, lipstick Lightly begin to draw eyebrows. Well padded with eyebrow with root root.
Eyeshadows are essential for all makeup. If you choose a different color, you will get a different impression. They can have lighter or neutral colors. Or you can use the dark sparkle color for a sexy makeup. Do not forget about the black eyeliner, it visually increases the size of the eyes of the silicone dolls.
The pink blush on doll cheeks looks youthful and energetic.
The lipstick color should match the overall makeup. If you want to have the sexy face, you can wear red lipstick for her. If you prefer the warm and cute makeup, you can choose a more muted color.
Contact us directly for more information about doll make-up.