So you have decided to buy your own sex doll. Many men desire the companionship and happiness of owning a sex doll, but many are afraid to actually buy anything due to the stigma attached to these products.
If you have decided to buy a love doll but are still hesitating, put your nerves aside. A sex doll heals loneliness and satisfies a strong sexual appetite at any time of the day. It's a worthwhile purchase for many men, bringing numerous personal benefits, but also a sizable investment. So when you shop and buy your own model, you want to buy the best sex doll.
Because of the stigma that surrounds sex dolls, it can be difficult to find tips, advice, and insider knowledge on what makes a top sex doll. You may not be able to talk to anyone personally about which doll is the best on the market. So it's really important that you have a comprehensive guide online to turn to.
Here is a complete Best Sex Doll Buyers Guide to tell you all about which doll is best for you. We took size, shape, price and brand into account to find out which silicone sex doll guarantee newbies.
What to look for in a sex doll
Sex doll manufacturers make dolls for men of all kinds. Dolls are made with different body types, physical features, and different characteristics that make each model unique. Regardless of the physical characteristics, all sex dolls should be made with quality.
Sex dolls are not cheap: they can cost up to €10,000. But you don't have to pay that much for a quality doll. It's always best to find a model made by a company that makes high-end dolls. These are available for mid-range prices between €1000.00 and €2000.00.
High end dolls are the highest quality luxury dolls you can buy. They will offer you the best experience, closest to real sex and intimacy. There are a few qualities in high-end sex dolls that you should look for in any doll you consider.
DURABILITY
While they're not necessarily as expensive as the €10,000 models, high-end dolls are made to last. They are more durable and made from better materials than cheap dolls from companies that don't make their products with care.
One flaw with standard sex dolls is that after constant use they tend to come apart as they are bent into different positions. They can even go faint, making them less realistic. High-end dolls can be moved. They are built with bendable joints that make their movements more flexible. Its realistic skeletal structure holds the doll up and secures its position, unlike entry-level dolls which are not always sturdy.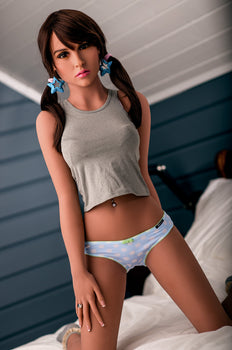 Customizable options
Manufacturers of lifelike sex dolls create models that are unique. You are buying a doll that is different from all the others because the company makes each model look and behave with different physical characteristics and dimensions.
Most of the time, once you find a look you want, you can customize some of the doll's features to your liking. The models are available in different skin colors and vagina sizes. This is very convenient as any man can use a high-end doll instead of going for a model that doesn't fit well.
You can even choose a foot type for your doll. Dolls can be crafted to stand or rest against items.
Realistic sex doll features
High-end dolls are made with more realistic features than lower-priced products, giving you a closer taste of real sex. With detailed eyes, facial structure, lips, hair, and even unique features like beauty marks and blush, the experience is as close to sex with a woman as you can get.
A realistic doll makes all the difference. You will feel like you are looking the woman of your dreams in the eye. With cheaper models, you risk unrealistic experiences. And if you want to try a sex doll, you might as well strive for the best sex possible.
sexual functions
The special care taken with high-end dolls not only makes them more realistic but also more attractive. Often, high-end dolls are made with extra-large breasts, thick legs, and most importantly, realistic vaginas.
A doll's vagina is one of its most important assets. Therefore, you should make sure that the doll you buy meets your preferences, which is most likely the case with a high-quality doll. Vaginal depth provided by quality construction contributes to the feeling of entering a real vagina.
quality materials
A big component will be how the doll's vagina feels. High-end dolls are made of high quality silicone. Check the product details for medical grade macromolecule silicon. This is the highest quality material you can buy and will transform your gender from mediocre to better than the real thing.
This material is platinum-hardened, which holds the doll's parts together and prevents degradation. Using cheaper silicone risks exposing you to the doll's internal oil. This isn't necessarily common even with entry-level dolls, but it's still best to avoid this dilemma.
Luxury Sex Doll
No matter what, a luxury sex doll will give you the feeling of deep, intimate, realistic sex with a doll whose detailed features give each silicone doll a specific personality.
Other Types of Sex Dolls
Regardless of the price point you are looking for in a sex doll, each quality type contains dolls that appeal to specific body types, fetishes, and fantasies.
Fetish dolls, dress and accessories
It's easy to find a sex doll that inspires a specific fantasy or fetish. Some dolls are dressed up as schoolgirls, housewives, maids, nurses, etc. Some retailers even sell outfits and accessories made specifically for dolls. These clothes fit plump curves and big breasts, making your doll more exciting.
You can also buy clothes for your doll. This way you have full control over how your dolls look. Dressing up your doll can stimulate your imagination, bring your fantasies to life, and enhance the overall experience.
Extra large boobs and butt
While many high-end and mid-level dolls can be bought with extra large curves, some are specifically designed for men who crave the biggest boobs and bumps.
torsos, feet and legs
If you are looking for a smaller model to play with, you can purchase individual parts that are as realistic as a life size model. Some manufacturers sell individual feet and legs. You can even buy a set of breasts.
The most popular variant of the full-bodied dolls are torsos. Torsos include multiple features of a model, but never the entire body. Torsos are the best sex doll for discreet men who cannot risk having a life size doll outdoors or a man unwilling to experience a full size doll.
Bottm Line: What is the best sex doll you can buy?
As we come to the end of our sex doll buying guide, it is clear that the sex doll market is so vast that any man can confidently invest in a sex doll that is ideal for their preferences, price range and lifestyle. Luxury love dolls are always recommended for the full experience. They are the closest to real sex due to their high quality and realistic construction, details and enhanced physical characteristics such as vaginal, anal and oral depth.
However, the best sex dolls are not necessarily best for every man. Some would benefit from a torso or mini-doll to remain discreet or just to experiment. No matter what your preference, a sex doll awaits you that will bring pleasure, intimacy and fun. It's up to you to research. Explore options, prices and styles before you bring home a budget-friendly model. The more you learn about the doll you are interested in, the better you can determine if your favorite doll is fulfilling your sexual desires.
Above all, don't be nervous. Exploring your sexuality with a sex doll is healthy and completely normal. The less you shy away from your inner desires during your research, the more likely you are to find your compatible sex doll.